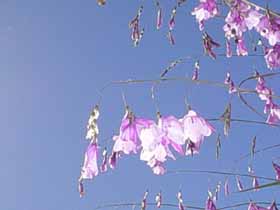 THE FAY.
I have no soul, no warm humanity.
Love me- and you court calamity.
I am no dainty lady butterfly.
So fear me, Man, if you should take my eye.

I swing in the windblown
Blossoms of despair
Win my hand? No.
Youíd never stand a prayer.
Never stand a hope to seek my fickle heart
For your soulís sake, itís best we stay apart.

Thereís mornings when I wish I had a chance
To love you and to join the human dance
But I know, you know, itís better we refrain
From luckless love-Iíd cause you only pain.

I drift in the windblown
Petals of perhaps
Win my heart? No.
An eon must elapse!
Never even think to spend a lovesome day
For goodnessí sake; itís best you stay away.

Summer blooms shall fade into the dust
You call it love? We know itís only lust.
You know, I know, Iíve nothing more to hand
Kiss my shoulder and try to understand.

I dance in the windblown
Flowers of your mind
Win my heart? Youíd
Leave your own behind.
I wish I had some hope to offer you
But I am fay and a human man are you.


I have no soul, (Iím a blossom of despair)
To love you is to say I never care
An eon must elapse-
And Ė
Iíve nothing more to hand
I wish I had Ė Oh! Begone, you foolish man!