BOY DOWN UNDER.
Dorchester "Smooch" October 2004.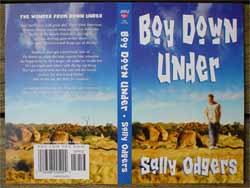 THE WONDER FROM DOWN UNDER

Sun! Surf! Guys with great abs! That's what American Rowena Maven expects from her year in Australia. Reality is the Roach Hotel she's staying in, and the chewing gum on her shoes. That's until Patrick Carroll drops out of the sky.

Suddenly, Ro's got a boyfriend. Sort of. He shows up when she least expects him, wherever she happens to be. He's magic. He walks on clouds but he's no angel, and what's with the lip-zip thing: she's got a boyfriend, but she can't tell the world-or even her best friend Hallie? And on the day she does, he vanishes.

Lip-zipped or lovelorn, are those her only options! Not if Ro can uncover the true Boy Down Under.