WHAT'S NEW IN 2007
FREEDOM: the story of four generations of women parted by fate.
BOTH TITLES PUBLISHED BY www.eternalpress.com.au
SPINNING PEARLS is a companion to FERNSEED FOR FAIRYSIGHT.
OCTOBER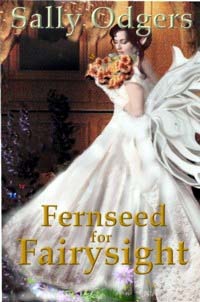 Fernseed for Fairysight is my new book of fantasy poetry for grownups. It was published as an e-book by Eternal Press in 2007.
Click cover to buy a copy ( USD 2.95) and enter my new competition for some lovely prizes (including a vintage crystal brooch, scrapbooking pack, ammonite, freshwater pearl pendant, May Gibbs book etc).
June
June saw the launch of two brand new sites.
Affordable Writing Assessments has outgrown its old spot and now has its own address at
http://www.affordablewritingassessments.com
Jack Russell: Dog Detective also has his own site at http://jackrusselldogdetective.com
April
New Non fiction titles New fantasy titles
March 2nd
New edition of I'm Big Enough.
Jan 1st - uploaded revamped site.
WHAT WAS NEW IN 2006!
YABBA 2006 James and Hayley's wedding pics (October 2006) Pup pics from October 2006 Dragon Mode
My Blog ARKIES page. ACE'S LITTER Pictures - pups born Feb 2006.
WHAT WAS NEW IN 2005.
Publishers page updated. Family Page Updated family photo page. More Dogs! Pictures of dogs, mostly Jack Russells.
site map Streamlined the site map. author links Updated author and illustrator ANZ links.
New Book - GOLD'S BRIDE